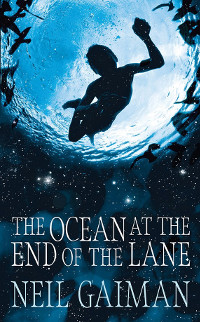 Inhalt:
A middle-aged man returns to his childhood home to attend a funeral. Although the house he lived in is long gone, he is drawn to the farm at the end of the road, where, when he was seven, he encountered a most remarkable girl, Lettie Hempstock, and her mother and grandmother. He hasn't thought of Lettie in decades, and yet as he sits by the pond (a pond that she'd claimed was an ocean) behind the ramshackle old farmhouse where she once lived, the unremembered past comes flooding back. And it is a past too strange, too frightening, too dangerous to have happened to anyone, let alone a small boy.

Meine Meinung:
Das Buch habe ich auf englisch gelesen. Die Sprache ist klasse, aber für Englisch-Anfänger nicht immer leicht zu verstehen, aber zwischenzeitlich ist das Buch jetzt auch auf deutsch erschienen.
Ich weiß gar nicht mehr wann und wo ich dieses Buch gekauft habe, aber es war ein totaler Glücksgriff. Gut, bei dem Autor Neil Gaimann kann man nun ja nicht wirklich etwas falsch machen. Das Geschichte ist wirklich toll, sehr fantasievoll, total verträumt und auch etwas gruselig. Ich habe das Buch in einem Stück durchgelesen und das Ende lässt einen etwas traurig und melancholisch zurück. Aber auch das gehört zu dem Reiz des Buches dazu. Von daher von meiner Seite eine absolute Empfehlung.
Wertung:
9 von 10 Punkten
Kaufen:
Neil Gaiman – The Ocean at the End of the Lane
Neil Gaiman – Der Ozean am Ende der Straße